A SMART HOME STARTS WITH A SMART THERMOSTAT
SMARTER HOME = SMART THERMOSTAT OPTIONS - Save an average of 23% in heating and cooling costs.
Home Automation System Repair, Replacement & Installation - Today's best thermostats are wi-fi and programmable – just like your phone or laptop. A wi-fi thermostat can communicate with you when you're not home and control your system when you're home or away using simple programming.
SMART THERMOSTATS PROVIDE ALL-AROUND COMFORT - Most thermostats only read the temperature in one place (usually the hallway or dining room) which can keep other rooms uncomfortable. But SMART STATS, like the ecobee4 have an additional room sensor to help manage hot and cold spots. When you place sensors in your favorite rooms, they can read the temperature and sometimes detect occupancy. That's how it ensures comfort in the rooms that matter most.
OBSESSIVELY ENGINEERED, SOME LISTEN AND ANSWERS BACK - With Amazon Alexa Voice Service built inside, the ecobee4 can perform the many 'skills' that come with Alexa. All you have to do is ask. For total hands-free control, it can even hear you from across the room. The ecobee4 has embedded microphones with far-field voice recognition and a speaker engineered for clear voice and full sound. It's the smart thermostat that looks at home on your wall – that you can hear and speak to from across the room.
KEEPS UP WITH YOU - Comfort on the go - Adjust temperature and comfort settings easily from the your mobile device. Software includes geo-fencing to it knows when you're away from home, and when you're on your way back. This means saving energy, even when you're not home.
IT KNOWS YOU HAVE A LIFE - Vacationing and forgot to let your thermostat know? Make a vacation event using the mobile app. If something's wrong with your equipment, it can send you and your chosen HVAC technician service alerts and annual service reminders.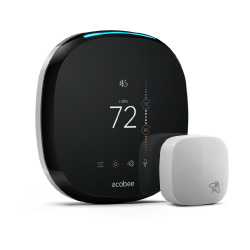 ComfortSync Advanced Wi-Fi Smart Thermostat with Zone Comfort uses advanced intuitive management system and multiple room sensors to better control zoned HVAC systems, properties with multiple systems, and better manage commercial properties. Pair with other SMART HOME devices like the Lyric Security Camera, Water Detector, and more.
For more information or installation, call Harmonic @ 630-999-9008 to set your appointment today.